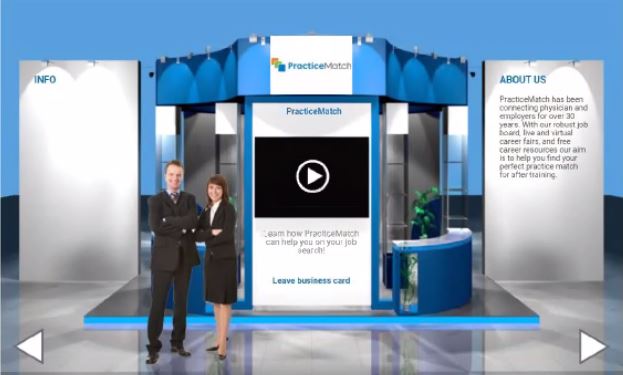 Example of a virtual booth inside the FMEC 2020 Meeting Platform
2020 FMEC "Virtual" Residency Fair
October 1st and 2nd:  6:00 pm - 8:00 pm and October 3rd:  1:45 pm - 3:00 pm EST

This is a great networking and recruiting event for your program.

We expect 80+ Residency Programs to participate and 300 medical students to attend.

Create a unique residency fair booth with the look and feel of your organization.

Residency programs can connect with medical students in their booth via chat/video.
Thank you to the 70 Residency Programs that are registered!
"The FMEC Residency Fair is our most successful recruiting event of the year!  Over the years we have tracked our Applicant "connections" from the AAFP National Conference, the FMEC conference and our activity at local Medical School FMIG meetings/Recruitment Fairs.  The FMEC conference has proven to be a consistent leader in producing connections that lead to interviews and to future residents. Thank you FMEC, you bring a great group of future and current Family Physicians together to connect!"   Bill Warning, MD, Program Director